08 Sep

LARC! Accessibility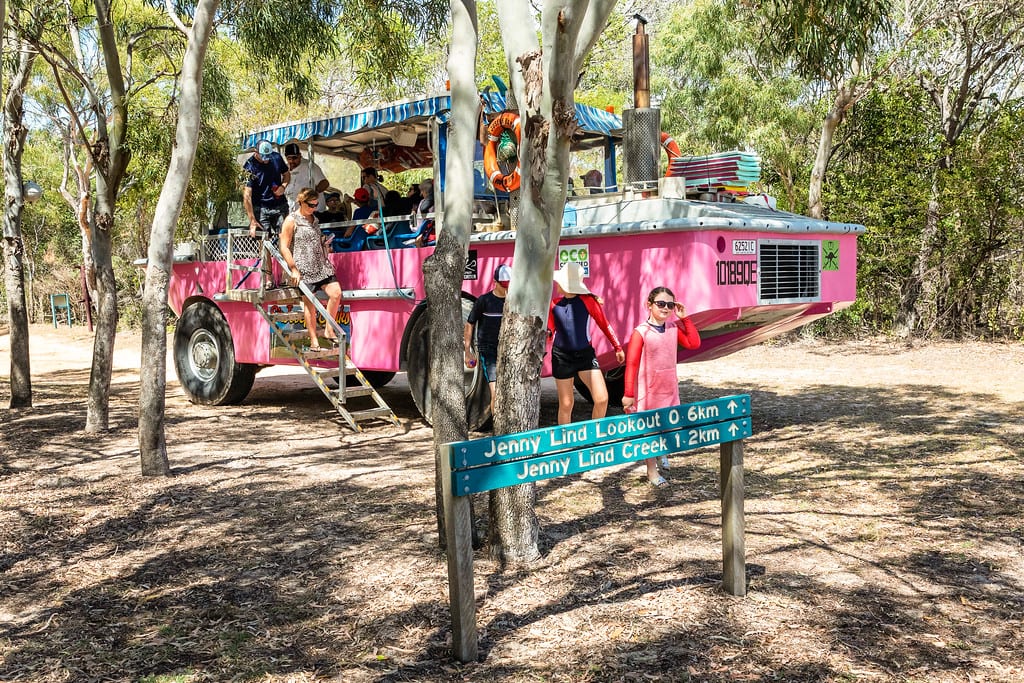 How accessible are the LARCs?
We often get asked about accessibility on board our LARC! vessels.
Can a guest with limited mobility join the tour?
Can we take wheelchairs?
Will a stroller or pushchair fit?
We've even had the old "can we bring our dog (he's basically family you know)?"
In short – sorry, no your dog cannot accompany you on tour, as we are within National Park. But you will find some accommodation places and pet sitters in the area that will look after fluffy while you are exploring with us.
For everything else please read on.
Limited Mobility
On board all our excursions at 1770 LARC! Tours, you can choose to do as little or as much walking /activity as you wish. To board our LARC! vessels there are only 7 steps, with a handrail to the top. Our seating includes rows of deep bucket seats with handles, and one row at the back which is a cushioned bench seat.
Afternoon Cruise – 1 hour
Guests remain on board for the duration of our daily 1 hr Afternoon Cruise, this scenic tour is great for everyone. The LARC! acts like a moving grandstand and provides a great vantage point for wildlife spotting and sightseeing in the bay. Guests only need to be able to climb the 7 steps on and off once.
LARC+Lunch! Tour – 2 hours
The 2 hour LARC+Lunch! tour is a relaxed picnic cruise. It includes one stop on the beach in the middle of Bustard Bay for a picnic lunch. During the beach stop guests can go for a swim, a beach walk or relax in the picnic chairs. Guests will need to use the steps to board and disembark twice during this tour.
Paradise Tour – 7 hours
Our full day Paradise Tour is our most popular and signature tour here at 1770 LARC! Tours. There are 4 stops on and off the vessel throughout the day.
At Bustard Headland the LARC! will take you to the doorstep of the Lightstation. Here, you can choose to explore as much or as little of the lightstation as you wish. The lighthouse tower has a total of 58 spiralling steps to the balcony, all with a handrail to assist you. The visit to the cemetery is a 200m stroll from the lighthouse tower down a slight decline, on grassy and sandy ground. There's still plenty to see inside the light-keepers cottage museum and the engine room, with both full of maritime artefacts and historical photographs. Picnic chairs are also available at the lightstation.
You will visit the shaded picnic area twice during this tour – for morning tea and for lunch. The LARC! parks right next to the picnic area and there's plenty of timber bench seating to choose from while you sip your billy tea.
After lunch the LARC! heads for the sandboarding location, the sand dunes of Middle Island. Although sandboarding is our main highlight here, guests can also choose to go for a swim in Jenny Lind Creek, take a walk along the beach or remain on board the LARC! vessel and spectate the sandboarding participants.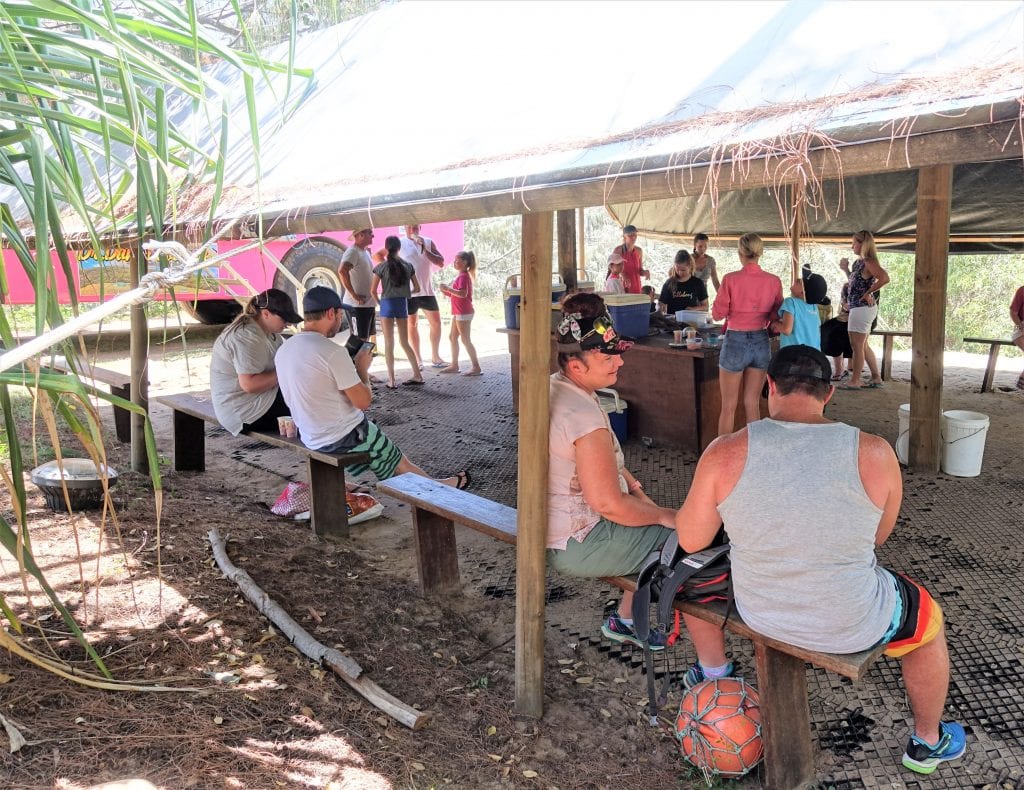 Wheelchairs
Unfortunately our vessels are not wheelchair accessible. Prior arrangement with the 1770 LARC! Tours crew can allow a wheelchair to be carried as luggage in a storage section of the vessel for our full day Paradise Tour if absolutely necessary. However the Lightstation section of the tour will be the only terrain solid enough for the usage of the said wheelchair. All other stops along the way are sandy / beach locations. There are no wheelchair accessible toilets at any of the tour stops.
Pushchairs
Similar to wheelchairs, we cannot have child strollers or pushchairs inside the seating area of the LARC! vessels. When travelling with infants most parents prefer to use front-facing baby carriers for their little ones, or sitting on the lap for the larger little ones. Upon booking, all infants are allocated a seat on board, to ensure there will always be plenty of room to move around.
In case of emergencies we carry life vests for all adults and children on board. It is not a legal requirement for them to be worn by children whilst travelling on board the LARC! If you would like your child to wear a life jacket on tour, you are more than welcome to bring along your own.
Comfortability
We try our absolute best to ensure our guests are comfortable on board all of our tours. If you are travelling with us and have limited mobility, please let us know at the time of booking. If you think you'll need extra time to board we can arrange you to board first, we're a very patient bunch.
If you have a seat preference please call our team on 07 4974 9422 and we will try our best to ensure your request is catered for. If you have any special request, unique questions or anything we haven't touched on here, please send us your enquiry info@1770larctours.com.au.