08 Sep

LARC! Accessibility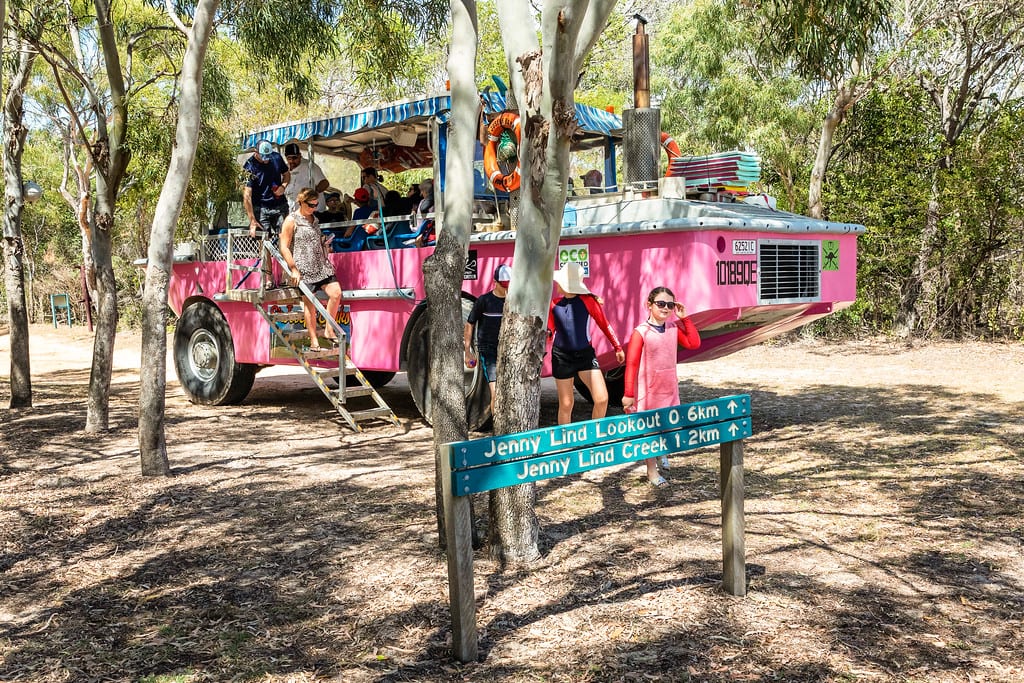 Inclusivity
At 1770 LARC! Tours we are dedicated to make our tours as inclusive as possible. Here we will outline our activities and what is involved for each tour, to help you decide on the best option for you. With a few notes on what we can do to assist to help make your day a great one!
We want everyone to be able to enjoy our backyard. If you have any special requirements, concerns or questions we encourage you to contact our friendly team in advance at [email protected]
Afternoon Cruise – 1 hour
Guests can remain on board for the duration of our daily 1 hr Afternoon Cruise, this scenic tour is great for everyone. The LARC! acts like a moving grandstand and provides a great vantage point for wildlife spotting and sightseeing in the bay. Guests board on and off the LARC! once with this tour.
LARC+Lunch! Tour – 2 hours
The 2 hour LARC+Lunch! tour is a relaxed picnic cruise. It includes one stop on the beach in the middle of Bustard Bay for a picnic lunch. During the beach stop guests can go for a swim, a beach walk or relax in the picnic chairs. Guests use the steps to board and disembark twice during this tour.
Paradise Tour – 7 hours
Our full day Paradise Tour is our most popular and signature tour here at 1770 LARC! Tours. There are 4 stops on and off the vessel throughout the day.
At Bustard Headland the LARC! will take you to the doorstep of the Lightstation. Here, you can choose to explore as much or as little of the lightstation as you wish. The lighthouse tower has a total of 58 spiralling steps to the balcony, all with a handrail to assist you. The visit to the cemetery is a 200m stroll from the lighthouse tower down a slight decline, on grassy and sandy ground. There's still plenty to see inside the light-keepers cottage museum and the engine room, with both full of maritime artefacts and historical photographs. Picnic chairs are also available at the lightstation.
You will visit the shaded, sandy picnic area twice during this tour – for morning tea and for lunch. The LARC! parks right next to the picnic area and there's plenty of timber bench seating to choose from while you sip your billy tea.
After lunch the LARC! heads for the sandboarding location, the sand dunes of Middle Island. Although sandboarding is our main highlight here, guests can also choose to go for a swim in Jenny Lind Creek, take a walk along the beach or remain on board the LARC! vessel and spectate the sandboarding participants.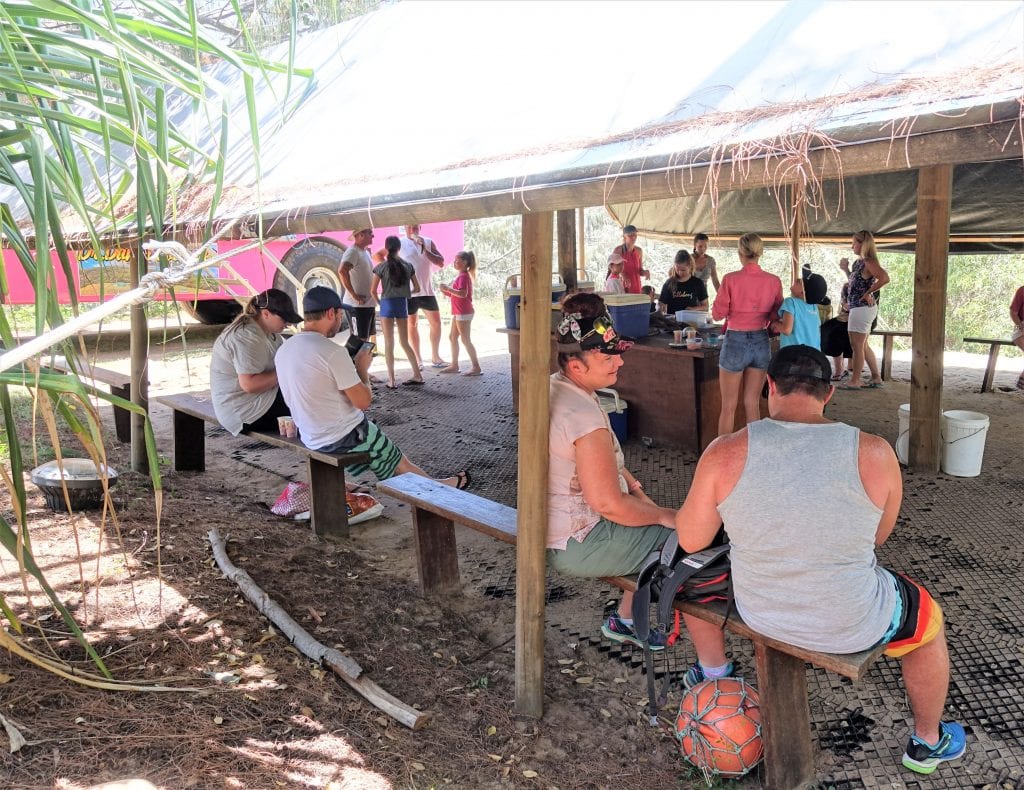 Limited Mobility
On board all our excursions you can choose to do as little or as much walking/activity as you wish. To board our LARC! vessels there are  7 regular steps, with a handrail to the top. For anyone who may not be able to navigate the stairs, with prior notice we can arrange for the LARC! to pull up level next to a jetty and bypass the steps all together.  Our seating includes rows of deep bucket seats with handles, and one row at the back which is a cushioned bench seat. Guests are more than welcome to bring along their own seating cushion.
Wheelchairs
With prior arrangement the 1770 LARC! Tours team can arrange for wheelchairs to be carried as luggage in a storage section of the vessel for our full day Paradise Tour or be stored in the office during the shorter tours. Our team will assist in any way we can with boarding and disembarking the LARCs.
Travelling with infants
When travelling with infants most parents prefer to use front-facing baby carriers for their little ones, or sitting on the lap for the larger little ones. Upon booking, all infants are allocated a seat on board, to ensure there will always be plenty of room to move around or to put the baby bag.
In case of emergencies we carry life vests for all adults and children on board. It is not a legal requirement for them to be worn by children whilst travelling on board the LARC! during a tour. If you would like your child to wear a life jacket on tour, you are more than welcome to bring your own along.
Assistance Animals
We welcome guests with assistance animals on board. If you are travelling with an assistance animal we ask that you please let us know at the time of booking so that we can allow appropriate seating for yourself and your furry one. Assistance animals are required to have a labelled harness or collar and lead, along with a certified assistant animal ID.
We do venture into the National Park areas where domestic animals are prohibited. This means if you are travelling with your family pet, unfortunately they will have to stay at home or you can contact one of the many pet sitters in town.
Hearing Impaired
We conduct informative commentaries on each tour and we don't want you to miss out on all the fun stories. We have compiled written commentaries for you to read at your own leisure. These are located on each LARC! vessel beside the skipper. We also welcome hearing impaired groups and are happy to offer a free of charge seat for you to bring along a sign language translator.
Dietary Requirements
The food supplied on our Paradise Tour and LARC + Lunch Tour is lovingly created fresh each day by the fantastic 1770 Marina Cafe. The team here can cater for any dietary requirements that you may have. Lunch orders are taken at the time of booking. When you are booking with us online you will complete a food order form with dietary requirements listed as check boxes. For more complicated orders, instructions can be made in the comments section. There are no extra charges for guests with dietary requirements.
Comfortability
We try our absolute best to ensure our guests are comfortable on board all of our tours. Most importantly we want you to feel comfortable talking to us about anything at all. We are regularly presented with new challenges, however there's hardly ever a problem that we cannot solve or work around together.
Our Visual Story
Download our visual story here.
Please talk to us –  [email protected].