16 Oct

1770 LARC! Tours Photo Competition
1770 LARC! Tours is launching a photo competition, and calling for all your favorite LARCing images!
There is no restrictions on entries and with 6 categories to enter, this competition is open for everyone!
Along with 6 minor prizes, all entries are eligible for the grand prize of an Agnes Water and 1770 holiday package, including 2 nights accommodation at
Agnes Water Beach Club
, 2 Adult tickets for 1770 LARC! Tours full day Paradise Tour and more.
Image requirements:
We are keeping it easy so anyone can enter, there are no restrictions on image size or resolution. Each image submitted must be original, the entrant must be the owner/photographer of the image and that's it!
Categories:
Wildlife
Image must be taken in the Town of 1770, Agnes Water or surrounding National Park areas, and showcase native wildlife as the main feature. Can be of land or marine wildlife. Does not have to be taken on tour with 1770 LARC! Tours.

Splashdown
You have all seen it, the LARC! Splashdown. Every afternoon between 3.00pm and 4.30pm our brilliant pink LARCs head out on an Afternoon Cruise. The highlight for all on board and the observers is the giant splashdown from the sandbar. Images for this category can be from on board the LARC! or from observing.

Lighthouse
We can't have a photo competition without including a section for something very close to our hearts, The Bustard Head Lighthouse. In this category the Bustard Head Lighthouse tower must be included.

Sandboarding
Face planting, water skimming, racing, climbing, smiling and having fun whilst sandboarding on our Paradise Tour is what we are looking for in this category.

LARC! in the spotlight
Referred to as one of the most iconic features of the Town of 1770, our brilliant pink LARCs love the spotlight. All you need for this category is to have snapped the LARC! while you have been out an about.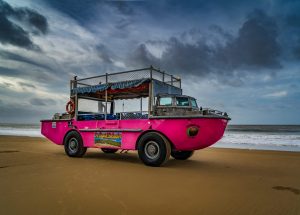 Family Fun
1770 LARC! Tours have something for the whole family. In this category we are looking for friends, families and loved ones enjoying their time spent together.
NOTE: If your image does not fit in with any of the above categories you can still enter it un-categorised for the grand prize 
Tips
Cook's monument walk and the foreshore next to 1770 Campground are great locations for spotting the LARC! splashdown.

Kayaks are a great way to explore the water ways and get yourself a different angle.
Entrant's images will be show cased on 1770 LARC! Tours social media pages. Get your friends clicking, the engagement may be used as a decider.

We have a great sense of humour. Have some fun with your images, any image that gets a giggle from us is definitely a plus.

No fancy cameras necessary, although the better quality image does have an advantage.
How to enter:
Photos can be submitted via email to [email protected] or via Facebook and messenger to 1770 LARC! Tours. To help us organise the images and make easy contact with prize winners please include the following information with your submitted images.
Photographer name:
Phone number:
Location of picture:
Date taken:
Image Category:
ENTRIES CLOSE 20th November 2019
Image release agreement:
Upon submitting your image/s you are agreeing to 1770 LARC! Tours taking over the ownership. Once submitted the image/s must not be used or sold to any other person or business for promotional purposes. You give permission for the use of the submitted images on all 1770 LARC! Tours Social media accounts, advertising material, editorials, and online listings with trading partners.