30 Jan

Sandboarding – The ins and outs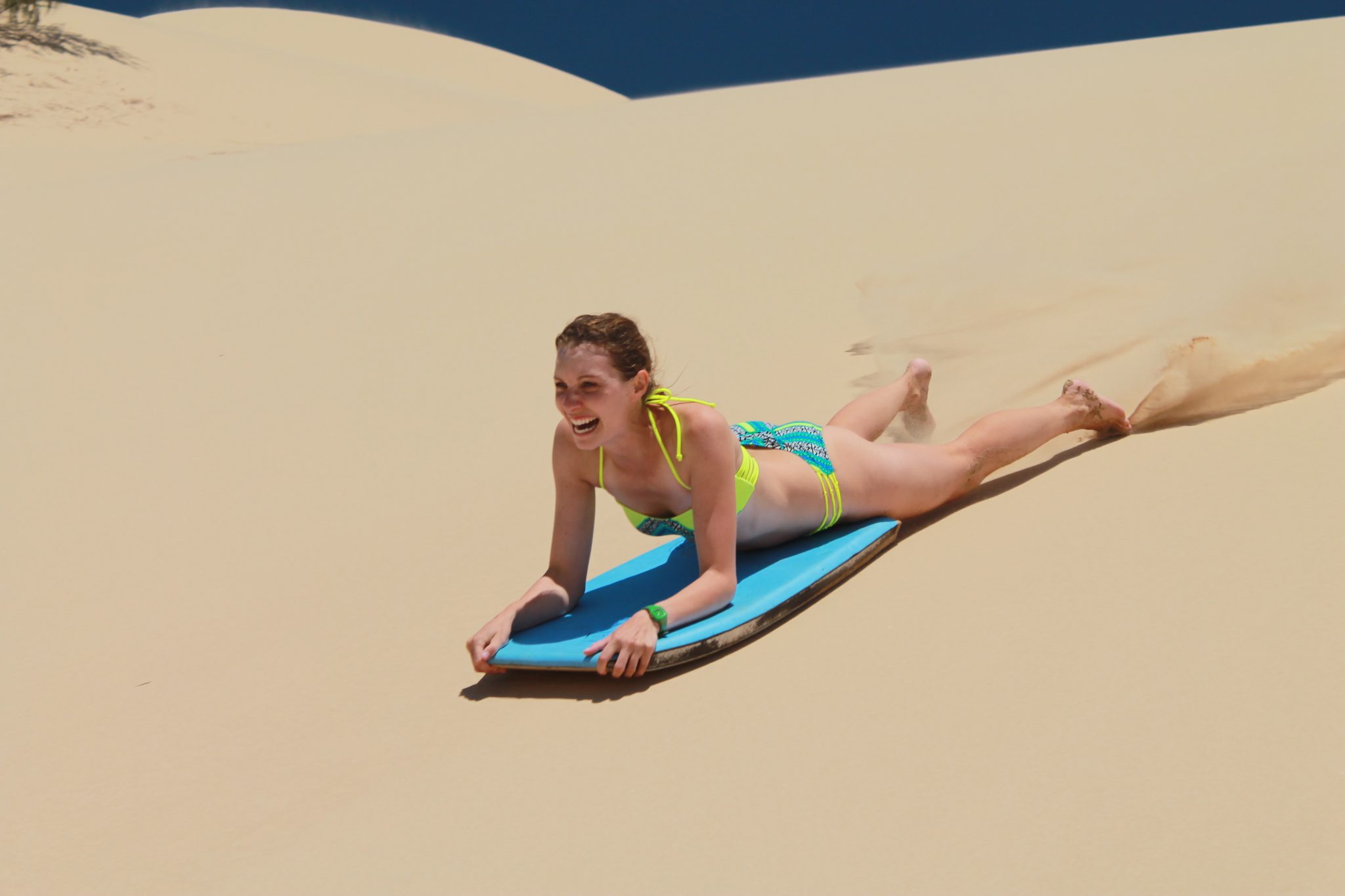 Sandboarding – The ins and outs
We are so lucky here at 1770 LARC! Tours to offer unique adventures to some of the most picturesque locations in the Southern Great Barrier Reef Region. One of those locations just happens to be the glittering, towering, 35m sand dunes of Middle Island. The most idyllic location for exhilarating sandboarding fun!
Many people do not know what to expect and can be quite nervous when it comes to the sandboarding point of the day. It sure is one of the most asked for/about activities, so we thought we would fill you in on the ins and outs to help make the most of your experience.
Where are the sand dunes?
The sand dunes of Middle Island are located 23km as the crow flies NNE of the Town of 1770. In the heart of the untamed wilderness of Eurimbula National Park. This section of the National Park is unreachable by any other vehicle other than our specialised LARC vessels. This exclusivity prevents overuse and erosion of the natural environment.
What is sandboarding?
We have a large selection of regular body boards. You choose your weapon and carry it to the top of the sand dunes. At the top our crew will flip your board and wax the underside (to ensure a smooth run). Next you lie on the board, hands holding on the front of the board and legs stuck out the back. When you're ready, lift your feet out of the sand and slide all the way to the bottom. Your speed and direction can be controlled by your feet, dig your toes in for the brakes, drag your left foot to turn left and drag your right foot to turn right… easy right?!
What tours include sandboarding.
The route to the sandboarding dunes, is incredibly scenic and takes just over an hour to reach. Because of the travel time, only one of our regularly scheduled tours includes sandboarding and that is our signature full day Paradise Tour.  However we do have a specially made itinerary solely for sandboarding activities, which we have called the Sandboarding Safari, This is a 5 hour tour and can be booked on request for private group charters.
What to wear
There is no dress code for sand boarding take it from the pirates above. However we do have a few recommendations. Be sun smart even during the cooler months the sun is always out. Use sunscreen, wear a hat and a UV rashie. During the summer months the sand at the dunes can get rather hot, so we highly recommend to bring along sand shoes or socks that you can climb the dunes in. Apart from that it's a free for all, DTs, dress ups, snow gear whatever your feel is fine.
Do you sandboard all year round?
We sure do! Sandboarding is not seasonal at all. Although the style of sandboarding can change. During the summer months we like to choose a sand dune track that will have boarders splashing into the cool waters of Jenny Lind Creek at the bottom. While the cooler months make it easier for boarders to climb the higher dunes for an accelerated longer journey on a dry trail. What about the rain you say? Even better! We see the majority of rain showers during the middle of summer. Not only does the rain cool it down but, wet sand + waxed up board = Super Sonic Speed! Yyyeeeeehhhaaaa.
Difficulty Levels
There are 3 levels of dunes to choose from:
Beginner – low & slow : A slight gradient on a slope from 2 – 10 metres high. Learn the basics here. Practise turning and stopping several times. Great for kids and those who are really unsure.
Intermediate – slow & high: A high dune 15 – 25 metres with a slight gradient. A much longer run than the Beginner slope being higher, but remaining at a slower speed.
Advanced – high & fast: After building up that confidence you're ready for the big one, 30 – 35 metres high and steep slope. This dune will have you flying down in record speed. Wet runs can have you skimming out over 10ms across the crystal waters of Jenny Lind Creek below.
Check out 70 year old Willie test out an intermediate run.
Age limits
Limits schlimits! There are no age limits here. The oldest that we have pushed down the dunes was 96 years old and the youngest that has flown down the beginner slope (with their daddy) was 1 year old. Do not let an age bracket hold you back from trying out something new. We will walk you through it at your own pace…. You got this!!!!
Soooo….
Live a little on our Paradise Tour, it might just keep you young!