08 Aug

Our little secret…..
We are going to let you in on a little secret, but you must make sure to keep it to yourself. We are going to show you our treasure map.
The Map
The treasure is a mixture of things many people would love to experience. The treasure is a wondrous land of emerald green forests, sapphire blue water, diamond clear visibility and golden sandy beaches. A plentiful ocean of marine life, rows of clean line-up, and skies with gentle breeze.
The treasure is our home!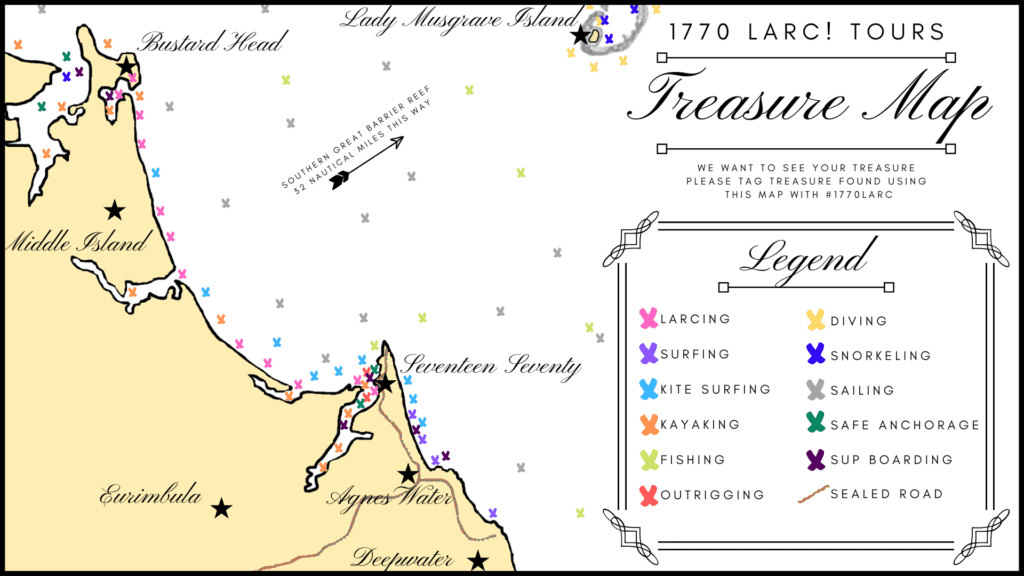 What makes it so wonderful?
Where else in the world you can find a single location that offers almost every single water sport known to man?
Sailing
Fishing
Spearfishing
Diving
We have it all!
And the best part? ……….. no crowds!
The place where dreams come true!
Located slightly off the beaten track Agnes Water and the Town of 1770 prove to be rare hidden gems. With a lack of commercial build up and a larger population of roos than residents our twin seaside towns are the perfect quiet escape.
It is possible for a single surfer to find themselves to be the only one in the line-up of a constantly perfect right handed point break (even on a SUNDAY AFTERNOON!).
Taking a kayak or SUP board up Round Hill Creek is a true adventure in a wild landscape, with the chance of spotting turtles, dolphins and rays.
A perfectly placed boat ramp opens the gateway to a fishing and diving heaven, and provides an entry point for the exclusive LARCing experience to the mystery filled historic Bustard Head Lightstation.
But we don't have it all
Here is a list of what you won't find here.
Shopping malls
Factories
Fast food outlets
Traffic lights
Traffic jams
Air, light and noise pollution
If you think you can live without these, then we believe it is time for you to book the holiday you deserve.
But shhhhhhs this is our little secret![/vc_column_text][/vc_column][/vc_row]